Property Extensions Harrogate, Leeds and Yorkshire
Our team of builders undertake many Harrogate extensions on a variety of property types, our service covers all aspects from design to completion. We would assist you with your ideas and the process of building and planning applications to confirm if the extension is allowed to go ahead. Once planning is agreed, we will work with you to achieve the desired design layout of your extension both externally and internally whilst working strictly to the building and planning regulations.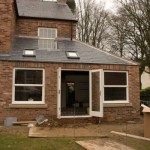 All our procedures from ground works to roofing are undertaken with the least disturbance to the client. At the outset of the project our builders will discuss a schedule of works with you to allow you to make any plans. For example, during a re-roof you may wish to consider any remedial works to the windows as the property will be clad in scaffolding?
Our sites are cleared of debris at least once or twice a week. No skips are left on-site, we remove and recycle most of our building materials. Any plastics and hazardous materials are taken to a recycling depot and disposed of responsibly. Old concrete and bricks are recycled for hardcore. Our main concern is to maintain a level of cleanliness and minimal disruption to your current living conditions. We believe that you're are always remembered for being clean as much as being efficient.
See below for our property extensions Harrogate gallery.